Vince is a character from the first 2 Cars video games who is not playable in either, but is being planned for a number of upcoming fangame proposals.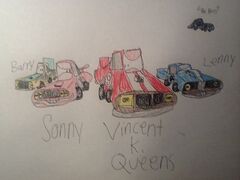 Cars: The Video Game
Edit
Vince and his gang are introduced to Lightning after having come from Queens, he competes in a few events afterwards.
Cars: Mater-National Championship
Edit
Vince competes in more events, it is unknown why he is still around.
Vince is under consideration of being a playable character.
This was to be Vince's very own video game, where he, Barry, Sonny, and Lenny are the main characters. The idea was scrapped though, in favor of an idea called "Poliwrath Vs. Exploud". His fanmade surname is "Vincent K. Queens", as his "Ma" is the controller of the secret fictional town of Queens, Colorado.