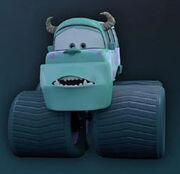 Sulley is a large, blue monster from Monster Trucks Inc. He has purple spots on his back. He is good friends with Mike.
Role in Game
Edit
He makes a cameo in the end-scene of Big and Strong Again. He is playable in the Monster Truck Waypoint Races and Mike and Sulley's Last Laugh.
He is based on Sulley from Monsters, Inc.