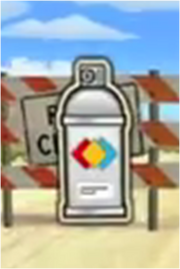 Story mode allows you to customize Lightning McQueen, by unlocking paint jobs and tire sets by finding them throughout the three cities.
Locations
Edit
Radiator Springs
Edit
In front of the road closed sign that is blocking Sarge's Compound.
Inside one of the old gas stations near the Glen Rio Motel.
Ornament Valley
Edit
In the park, behind a bushel of flowers.
Behind some rocks around the exit of the "Turkey" from the second Ornament Valley road race.
In the sand dunes not far from the Rustbucket Stadium.
Tailfin Pass
Edit
In the dead end road running alongside the road that used to be a cliffside.
In some bushes next to a bridge that eventually leads to a long tunnel.
Tucked in a corner inside the long tunnel.