Ginormous is a non-playable monster truck.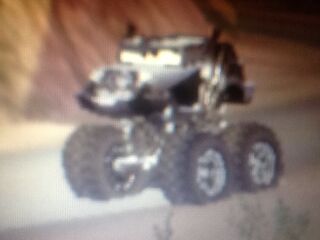 Cars: The Video Game
Edit
Ginormous only appears in Monster Truck Mayhem.
Cars: Mater-National Championship
Edit
Ginormous competes in waypoints.
Cars:IGNITE Remake
Edit
Ginormous in under consideration of being a playable character, in all event types.
Vince and the 300000 Racketeers the Video Game Edit
Ginormous would have been playable.
His tires have "W" spokes, he could be called "Ginormous" because of the fact that they are larger than any other character's Monster Tires.
He cannot talk, he can only make roaring sounds. However, in Monster Truck Mayhem's cut scene in Cars: The Video Game, the subtitles read "DEARGGHHHH!!!" when he screams.